Door Hangers are one of the most affordable marketing tools for businesses. They are a doorstep advertising tool hanged with the doors of houses so that your brand gets into notice when people come in contact with them. This makes the success of your advertisement guaranteed by giving recognition to your brand. These promotional pieces are made with eco-friendly paper stock and can be customized in desired sizes and shapes. A variety of laminations can be done on them for added protection and desired appeal. They can be printed in various ways with vibrant colors besides metallic ink printing.
Small and emerging businesses do not have enough budget to spend on expensive electronic media advertisements, but that doesn't mean they can't run a successful marketing campaign to grow their business. Door Hangers can be the best option as they are equally beneficial but far more economical. Let us dive deep and see what benefits they can offer and how you can get the most out of them.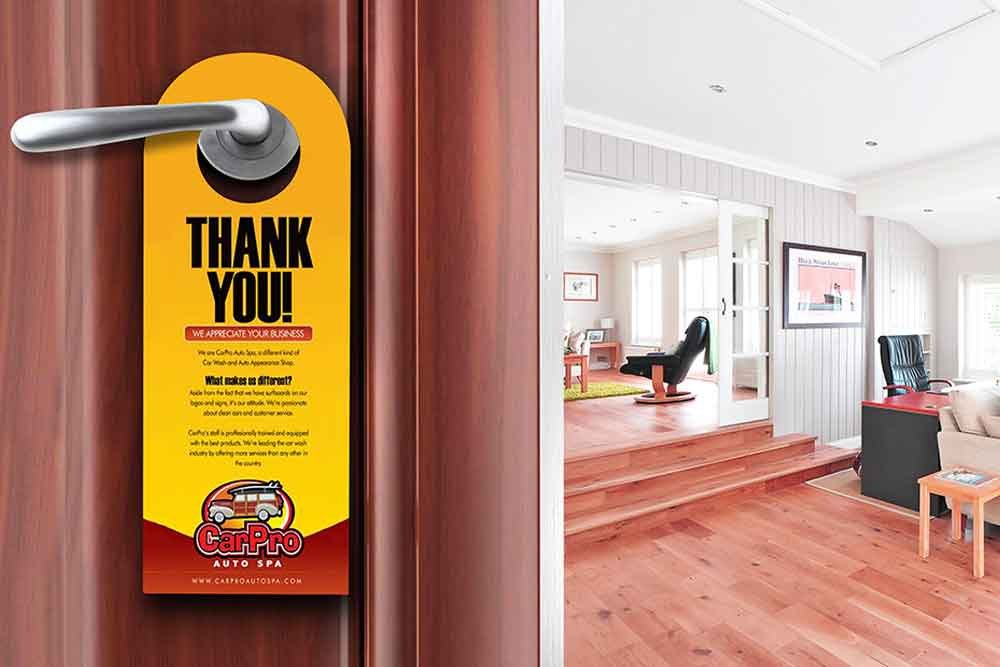 Why do we market our brand?
Before we get into the pros of these little promotional tools, let us first discuss why you need to market your business. It is evident since the beginning of marketing. Companies keep discovering new ways to grow and be at the forefront of the market. They keep striving to target more and more customers, build a positive image in their eyes, remain in their good books by showing loyalty towards them and earn maximum profits in the long run. Customers are, for sure, what can make or break the business. So brands do everything to provide the customers what they like and expect from them to increase their credibility. Besides offering top-notch quality services, you have to advertise your brand to enjoy a competitive edge over the others. It will help you get the maximum return on investment and generate multiplied revenues. One of the best and most cost-effective ways to achieve these milestones is the use of Door Hangers. Now let us discuss their benefits in detail.
Impossible to Ignore:
Unlike a mail, which stays in the mailbox for days and then thrown away by the receiver without ever being read, these Die Cut Door Hanger have no chance of being ignored. They are hung directly at the door handles of the potential customers, so they definitely notice them whenever they come in contact with the front door. They have to physically remove them from the handle, and most of the time, they take them inside their homes. Even if they don't read it by that time, your promotional piece stays on the table or somewhere else, and they read it whenever they get a chance. So unlike the television or internet ads, which we skip or ignore to listen, these little promotional pieces are impossible to ignore and have the potential to influence the consumer to a great extent.
Increase Brand Awareness:
After being grabbed by the receiver, the first and foremost thing noticed by the holder is the name of the brand. So in the very first moment, your brand identity gets acknowledged. People get to know that there is some brand like this existing in the market and offering such and such services or products. Even if they do not take action on your call, your brand will somehow remain in their memory, and they will consider buying from it someday soon. And if you want to intrigue them to read the whole leaflet, then you need to make it eye-catching enough. A lot of attractive templates are available online that can enhance the appeal of your marketing pieces. Print Door Hangers with bold and clear fonts to enhance their readability. Your trademark message should be the most prominent out of all the other information, and the person holding the leaflet should not have to find out what you are trying to convey, but the message should be clear enough to grab their attention on its own. It will definitely help you achieve the anticipated target.
Easy on the pocket:
Another reason why these doorstep advertising tools are given preference over the others is that they are the most inexpensive out of all the available marketing options. Compared to the television ads or billboards, the cost spent on them is not more than a fraction. Small businesses use them extensively because the Door Hanger Printing costs as low as 2-8 cents per piece. If a brand can run a successful advertising campaign at such low prices and get maximum return on investment, then why would it go for expensive options to break the bank? It makes sense, doesn't it?
Reinforce Advertisements:
Not only are they used by small businesses, but established brands also use these doorstep marketing tools to reinforce their ongoing advertisements. For example, if you have already advertised in magazines or televisions, you can remind people about your advertisement again by distributing Custom Door Hangers at their steps. Get them printed enticingly with your sales, special offers, or upcoming events, and it will further highlight your promotion and eventually help you hit your goal. These small leaflets are effective at generating interest and create a long-lasting impression on the minds of consumers by remaining somewhere in their conscious or unconscious mind.
While there are a lot of modern advertising options available now, Custom Door Hangers are still used by a lot of brands to enjoy significant benefits. They are more effective than newspaper or television ads and cost a fraction of their price. These small marketing tools are ideal for emerging brands to build their brand identity by making people aware of their names. They have established themselves to be the most effective advertising option as they excellently grab the attention of potential customers and make them take action while giving the maximum return on investment to the respective brand.